Since we set out to replace our existing Scout Hut in 2014 we have been continually talking with members of our Group, their families and the wider local community about our vision.
This has included:
Sending out Group Newsletters annually to all individuals the Group has had dealing with over the years explaining our vision and update on fundraising
A leaflet drop to 3000 local residents of our plans for a new Scout Hut
Run a Cubaccino café in our existing Hut on the first Saturday of each month for the past few years with information about our plans and vision for the future
Held numerous Group events each year open to local residents specifically stating that all proceeds will be put towards our fundraising target needed to build a new Scout Community Centre. This includes our very well attended and supported annual Christmas Tree Sale
Run various sessions with our different Beaver, Cub and Scout Sections to ask what they want from the new Hut so we have been able to include their suggestions and ideas into the design
Had a Section specifically about our plans promoted on our website and in social media since 2017
Explained to local residents as and when we have met them about our plans over many years
Had on-going meetings with our local Councillors, the leaders of St Mary's Church and the management team of the local Village Hall
The Councillors of our Ward and subsequently Councillors of Area 1 of Bristol City Council voted in favour of our application for £30,000 of CIL monies towards our project in 2020 – this required a detailed two stage application process and presentation at City Hall
To ensure the community had the opportunity to look at the plans and provide vital feedback, we ran an online questionnaire for 3 weeks in April-May 2021 on our website.
Results
We had over 50 responses from a mix of local community members and parents with over whelming support for the project.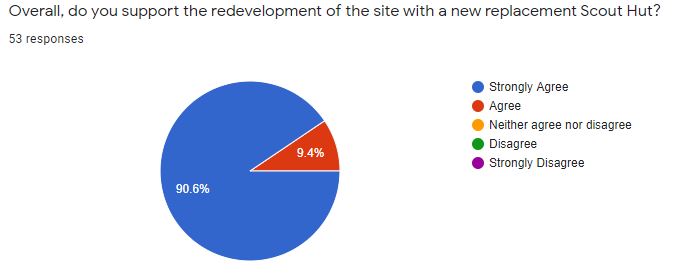 Many of the responses also provided very supportive quotes, a selection are shown below :
"I think this is a wonderful opportunity not only for the Scouts but for the wider community."
"Fantastic project! A community asset which will be truly valued."
"This will be fantastic for the current and prospective scouting groups at this site and the community. It will be great to have a safe and secure hut for everyone to enjoy. I strongly support this proposal."
"Anything that improves the space for children and young adults is positive especially after the pandemic. They need a space together to grow, have fun and be children"
A huge thanks to all who responded. Your support and encouragement is greatly appreciated.
Replacement Scout Hut Project Links