Cubs had a great night at Tescos this week, following Tesco's Farm2Fork trail.
The cubs explored the whole store, including their huge freezers, fridges and even lorries!!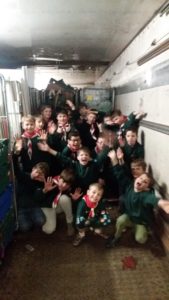 This picture shows the cubs managing to squeeze into a Tesco lorry with their huge recycling trolleys!
The evening provided an opportunity for cubs to explore the issue of sustainability and environmental management for their World Challenge.